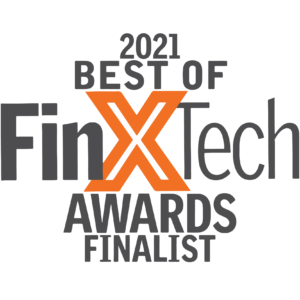 FORT LAUDERDALE, Fla. – April 1, 2021 Velocity Solutions announces that their Account Revenue Solution™ has been selected as a finalist in Bank Director's 2021 Best of FinXTech Awards in the category of Best Solution for Customer Experience. Through the Best of FinXTech Awards, Bank Director recognizes the efforts of emerging financial technology solutions based on analysis of each solution's capabilities—including actual results and feedback from bank partners. In addition, Velocity Solutions is automatically considered for the Best of FinXTech Connect Award.
The Account Revenue Solution™ helps financial institutions leverage big data and digital strategies to more successfully onboard new accounts, drive deposits, boost transactional activity and encourage cross-selling, while providing a rewarding experience for account holders.
"We're thrilled to be selected as a finalist for this prestigious distinction," said Christopher Leonard, CEO of Velocity Solutions. "The Account Revenue Solution™ is an innovative product that provides the best and only solution in the industry for boosting performance at each stage of the checking account life cycle in an integrated software-as-a-service package. Paired with the Velocity Intelligent Platform™, our clients have unique insights into their entire account base, leading to enhanced profitability and improved customer service."
"As a leading information resource for all U.S. financial institutions, Bank Director is committed to highlighting proven, bank-friendly technology companies at the forefront of innovation through our annual Best of FinXTech Awards," said Michelle King, CMO of Bank Director. "We are pleased to recognize Velocity Solutions as a finalist in the Best Solution for Customer Experience category."
Award winners will be announced on May 6th at 12:00 p.m. CT during a special LinkedIn live presentation.
To learn more about Velocity Solutions' Account Revenue Solution™, visit www.myvelocity.com/ars
To see the complete list of finalists in the 2021 Best of FinXTech Awards, visit: www.bankdirector.com/finxtech/best-of-awards
About Velocity Solutions, LLC
Founded in 1995 and servicing the transaction accounts of over 30 million consumers and business owners, Velocity Solutions is the leading provider of revenue-driving solutions for community banks and credit unions. Our Velocity Intelligent Platform® powers all of Velocity's solutions, using machine-led intelligence that delivers powerful analytics and drives revenue, loans, account holder engagement and non-interest income to our client financial institutions. For more information, please visit myvelocity.com.
About FinXTech
Launched in 2014, FinXTech is a resource powered by Bank Director which specializes in connecting a hugely influential audience of U.S. bank leaders with technology partners at the forefront of innovation. FinXTech makes it easier for banks and technology companies to work together – through its exclusive in person events, editorial content and online FinXTech Connect platform. For more information, please visit FinXTech.com.